Jul 06,2023
/

Automotive Kia
How the 2023 Kia EV6 GT Performs Best in Electric Segment
The 2023 Kia EV6 GT is a high-performance electric vehicle that excels in the electric segment. The EV6 GT is equipped with a dual-motor all-wheel-drive system that generates a total output of 577 horsepower and 546 lb-ft of torque. Amazing comfort is one of the reasons the EV6 is suggested as Kia's electric vehicle for people who respect their money.
The EV6 GT supports both AC and DC fast charging. With DC fast charging, the vehicle can replenish its battery from 10% to 80% in just 18 minutes. Additionally, the car's 800V electrical architecture enables faster charging speeds and helps minimize charging times. Visit PPS Kia Showroom in Hyderabad to find the features as you test drive the Kia EV6 GT range.
The following are some important elements that support its excellent performance:
Battery and Range: The EV6 GT features a large 77.4 kWh battery pack, which provides an estimated range of up to 280 miles on a single charge (EPA rating). This ample range ensures that drivers can undertake long journeys without worrying about running out of power.
Handling and Dynamics: The EV6 GT boasts a performance-oriented chassis and suspension setup, providing excellent handling and responsiveness. Its low center of gravity, wide stance, and precise steering contribute to a sporty and engaging driving experience.
Regenerative Braking: The EV6 GT utilizes regenerative braking technology, which helps to extend its range. When the driver releases the accelerator pedal, the vehicle converts kinetic energy into electricity, which is then used to recharge the battery. This feature not only improves efficiency but also adds a level of convenience by reducing the need for frequent manual braking.
Advanced Technology: The EV6 GT is equipped with advanced driver-assistance systems (ADAS) and safety features. These include highway driving assist, parking assist, blind-spot monitoring, forward collision avoidance, and more, enhancing both safety and convenience.
The 2023 Kia EV6 is equipped with a feature called Vehicle-to-Load (V2L), which allows you to power other electronics using the vehicle's battery. The V2L system essentially turns the EV6 into a portable power source, enabling you to charge or operate various devices and appliances.
PPS Kia Hyderabad offers EV6 variants that incorporate V2L capabilities in both trims:
V2L1: This feature provides a standard 120V power outlet located inside the vehicle's cabin. It allows you to connect and power low-wattage devices such as laptops, small appliances, or camping equipment. With V2L1, you can utilize the EV6 as a mobile power station for your everyday needs.
V2L2: Additionally, the EV6 provides a stronger V2L2 function that enables you to power high-wattage devices. By utilizing a specialized charging cable, you can connect the vehicle to external equipment such as electric tools, power generators, or even other electric vehicles. This feature can be particularly useful in emergencies or when you need to power larger devices in outdoor settings.
The V2L system in the 2023 Kia EV6 provides added versatility and functionality, allowing you to make the most of your electric vehicle by using it as a source of portable power beyond transportation.
The Kia EV6 is a highly anticipated electric vehicle that offers several unique features and characteristics. Here are some of the key aspects that make the Kia EV6 special:
Electric Platform: The EV6 is built on Kia's dedicated electric-Global Modular Platform (E-GMP). This platform is designed specifically for electric vehicles, allowing for a spacious interior, efficient packaging of components, and optimized electric drive train performance.
Sleek and Distinctive Design: With a coupe-like roofline, slender lines, and a sculpted body, the EV6 has a daring and futuristic design language. It stands out with its unique proportions, muscular stance, and aerodynamic elements, setting it apart from other vehicles in its class.
Long Electric Range: The EV6 offers impressive electric range capabilities. Depending on the variant and battery option, it can provide a range of up to 300 miles (EPA estimated). This range ensures that drivers have ample distance for daily commutes and even longer trips without the need for frequent charging.
Fast Charging Capability: The EV6 supports high-speed charging, including both DC and AC charging. With DC fast charging, the vehicle can recharge from 10% to 80% in as little as 18 minutes. Additionally, the EV6 utilizes an 800V electrical architecture, enabling faster charging times and greater charging efficiency.
Powerful Performance: The EV6 is available in multiple power train configurations, including both rear-wheel drive (RWD) and all-wheel drive (AWD) options. The top-of-the-line KIA EV6 GT Horse Power offers impressive performance, with a dual-motor setup delivering 577 horsepower and acceleration from o to 60 mph in just 3.5 seconds.
Advanced Technology: The EV6 is equipped with advanced technology features. It includes a large curved infotainment display, an augmented reality heads-up display, Kia's latest connectivity features, and a suite of driver-assistance systems. These technologies enhance the driving experience and provide convenience, safety, and connectivity to occupants.
Sustainability Focus: The EV6 is part of Kia's broader commitment to sustainability. It utilizes eco-friendly materials, incorporates recycled materials in its construction, and offers an eco-friendly interior design. By choosing the EV6, consumers contribute to reducing their carbon footprint and promoting a cleaner environment.
The 2023 Kia EV6 GT offers impressive acceleration performance. Kia EV GT 0-60mph is just 3.5 seconds, in terms of acceleration. This acceleration time showcases the high-performance capabilities of the EV6 GT, making it one of the quickest electric vehicles in its segment.
The 2023 Kia EV6 GT can accelerate from 0 to 60 mph in approximately 3.5 seconds, showcasing its impressive performance capabilities.PPS Kia dealer Hyderabad deals with the sales of Kia EV6 which has a powerful dual-motor setup and ample torque contribute to its swift acceleration, providing a thrilling driving experience.
The 2023 Kia EV6 GT has an electronically limited top speed of 162 mph (260 km/h). This top speed demonstrates the high-performance capabilities of the EV6 GT, allowing for exhilarating driving experiences on the open road.
Overall, the 2023 Kia EV6 GT delivers exceptional performance in the electric vehicle segment, combining power, range, charging capabilities, handling, and advanced technology. Its impressive acceleration and ample range make it a compelling option for those seeking a high-performance electric vehicle. Visit PPS KIA Showroom Hyderabad to find the Kia EV6 GT price in India and book a test drive of different variants at our location.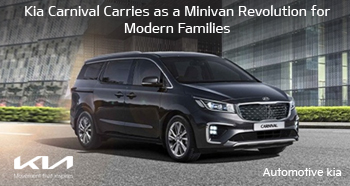 Kia Carnival Carries as a Minivan Revolution for Modern Families
Jul 06,2023
There are
0 Comments
on the post